Taken from the Grade Book of a teacher who feels that the bye week couldn't come at more of an opportune time for his injury wear students, here is the Pittsburgh Steelers Report Card for the win over the Cleveland Browns at Heinz Field.
Quarterback
7 plays. That's all Landry Jones second start lasted as he gave way to "backup" quarterback Ben Roethlisberger who hadn't practiced all week. Given Roethlisberger's performance, Mike Tomlin might consider holding him out of practice as standard operating procedure. Truthfully, Roethlisberger's performance wasn't flawless as he did throw an interception which opened the door, if only by a crack, to a Browns comeback. But 22 of 33 for 2 TD's and one pick is pretty darn good. Grade: A-
Running Backs
After having his way with the Oakland Raiders, DeAngelo Williams struggled against the Browns who held him to negative yardage for much of the afternoon. Was it Williams's foot injury or was the line not up to snuff? It is hard to tell. While the stat sheet might not show it, the Steelers could and did rely on DeAngelo Williams when they needed to kill the clock late in the game. Jordan Todman had 8 yards on two late 4th quarter carries, and Roosevelt Nix had one catch for 10 yards, showing just how versatile he's becoming. Grade: C
Tight Ends
Heath Miller caught four passes for 40 yards on 7 targets and was credited with 1 fumble recovery. As usual, Miller made his catches count. Reserve tight end Jesse James saw his second NFL game and made an additional catch for two yards. Grade: B
Wide Receivers
The Cleveland Browns prepared to face Landry Jones and, in the words of Cleveland coach Mike Pettine, didn't "know that their game plan would have been that much different if it had been Landry Jones the whole game." So therefore, they made no adjustments when Ben Roethlisberger came in, despite missing their top two defensive backs.
As the old SNL commercial goes: Bad Idea.
Ben Roethlisberger took advantage of mismatches in man coverage to connect with Martavis Bryant on receptions of 32, 44 and 64 yards. Antonio Brown continued "the Ben and Antoino" show making ten catches, a touchdown plus a 2 point conversion catch. Markus Wheaton had two catches on 2 targets, a modest performance but not bad from a receiver who has been shaky of late. Grade: A-
Offensive Line
It was a glass half full, half empty situation for the Steelers offensive line vs. the Browns. For the second straight week, Neal Coolong of USA Today Steelers Wire cited Cody Wallace for his poor technique. It is hard to say how much that contributed to the Steelers difficulties running the ball, but the offensive line must share blame anytime a running game is held to negative yards for three quarters. On the flip side, the Browns only sacked Ben Roethlisberger once and only added one additional hit. If ever there was a day when the Steelers could not afford to have Ben Roethlisberger beaten up, it was vs. the Browns. Grade: B-
Defensive Line
Steelers defensive end Cameron Heyward played like a man on fire, and the Cleveland Browns were unable to stop him at any time during the day.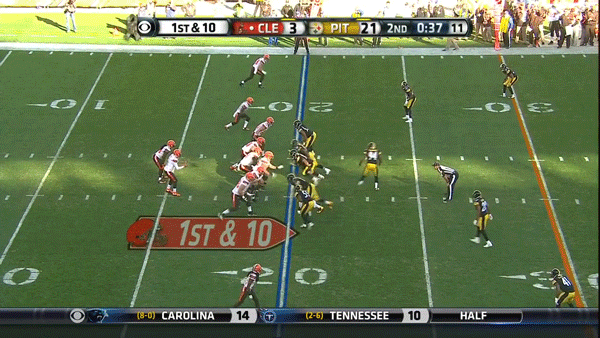 GIF appears courtesy of DKonPittsburgh Sports
Heyward finished with a sack, two tackles for a loss and another hit on Johnny Manziel. Stephon Tuitt was not far behind, getting a sack, a tackle for a loss and a quarterback hit. Cam Thomas and Daniel McCullers each got a tackle. The Steelers held the Browns to 15 yards rushing, and that includes 17 yards rushing by Johnny Manziel. The defensive line was doing its job. Grade: A
Linebackers
Lawrence Timmons lead unit with ten tackles, sacked Johnny Manziel once, and dropped two Browns behind the line of scrimmage. Ryan Shazier was next, with a sack and a tackle for a loss. Sean Spence stopped Travis Benjamin seven yards behind the line of scrimmage on an end around, helping keep Cleveland's rushing total in the negative column. Arthur Moats had half sack and recovered the fumble. Jarvis Jones was also credited with a half sack. Bud Dupree didn't put a lot on the stat sheet, but played well. Grade: B+
Secondary
Fantasy football owners who started Johnny Manziel were likely happy cappers Saturday afternoon, as Manziel threw for 372 on a day when his team could not run the ball. Will Allen led the secondary and the team in tackles, and continues to offer stability to a unit that is sometimes erratic. Michael Mitchell gave the Steelers their third Red Zone interception in as many weeks. The Steelers secondary has a certain "bend but don't break" quality to it. Its far from the team's strength, but it against the Browns, it got the job done. Grade: C+
Special Teams
Why exactly did the Steelers waive Dri Archer and sign Jacoby Jones? In his first game Jones looked tentative, which was to be expected given he'd had no practice. Vs. the Browns, Jacoby Jones looked like he'd forgotten how to catch the ball, muffing one fair catch and fumbling a kick return. Cleveland's kick return unit averaged 25 yards on four kicks. That's hardly lethal, but it is hardly praise worthy.
Chris Boswell made three field goals which helped keep the game out of reach, but he also missed an extra point, his second miss at Heinz Field in two weeks. Jordan Berry punted once for 42 yards. Grade: C-
Coaching
Mike Tomlin is a coach who believes in playing players who practice, and he stuck true to his word in starting Landry Jones. Injuries forced his hand, and the Steelers answered the call.
The Steelers offense continues to evolve under Todd Haley and it is evolving for the better. The Steelers only needed to punt once, and while they did turnover on downs in the end zone, they struck right back to get score a touchdown with just over a minute in the second half. Haley has weapons at his disposal and he knows how to use them.
Under Keith Butler, the Steelers defense appears to be giving up more yards than it did under Dick LeBeau (although that would need to be verified), but for whatever Butler's unit gives up in yards, it keeps finding ways to make it up with splash plays. And his unit seems to be play best in the Red Zone, as the Browns knocked on heaven's door twice and were turned away with no points on both occasions. On another occasion, the Browns made it to the Steelers 5 but had to kick. Grade: B+
Unsung Hero Award
Martavis Bryant had just fumbled away a 64 yard gain that most certainly would have set up a Steelers score. The Browns were only down by three and such turnovers can be momentum changers.
Yet on their first play from scrimmage, Isaiah Crowell scampered off left tackle looking for daylight. Steve McLendon was there, dropping him for a 7 yard loss. The Browns would make it to midfield before punting, but Steve McLendon's play set the tone for the drive and exemplified the aggressive force with which the Steelers front seven attacked the Browns.
Click here for more Pittsburgh Steelers Report Cards.