"The Khan Artist!"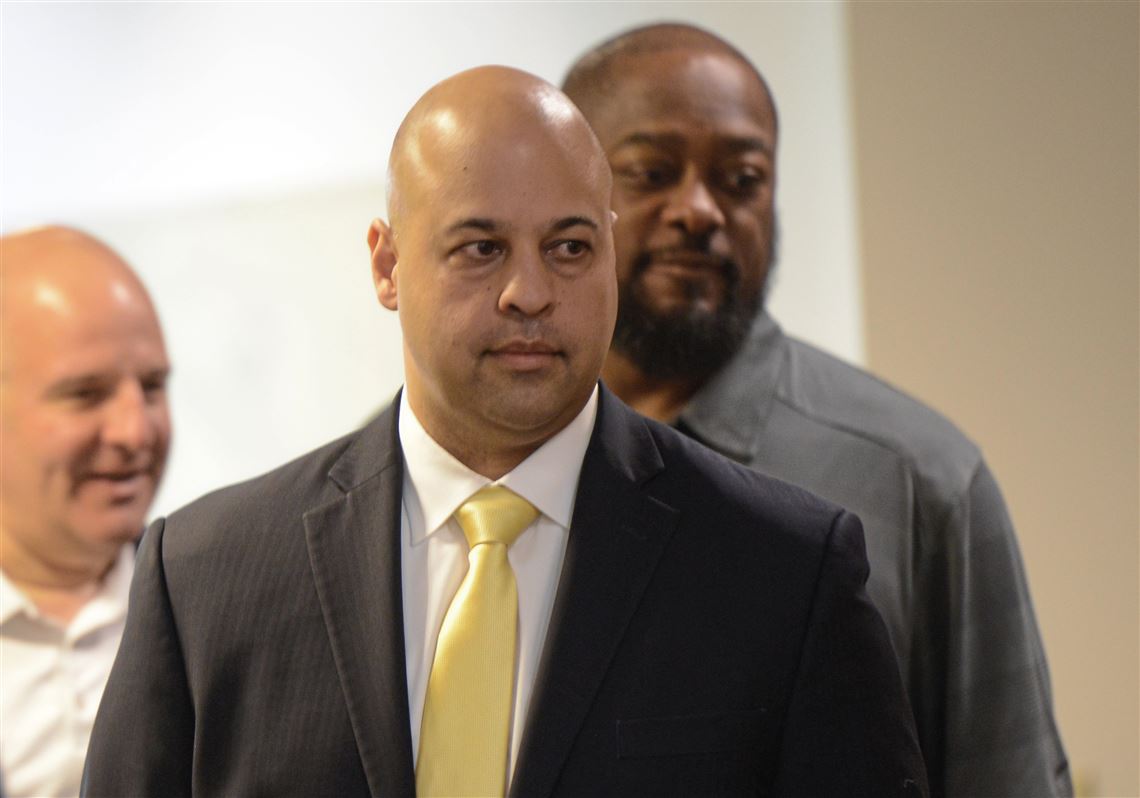 "The Khan Man!"
"Omar Khan continues to cook!"
"Omar coming, Yo!" (The Wire).
Yes, sir, Omar Khan, the Steelers' new general manager, is drawing tons of praise for his work in selecting the Steelers' 2023 NFL Draft.
Rightfully so.
If you had scripted (mocked) the Steelers' new class before the 2023 NFL Draft kicked off on Thursday, April 27, it couldn't have come out any better.
A left tackle stud in Broderick Jones; Joey Porter Jr.; Darnell Washington; Nate Herbig's brother; Cory Trice, an enticing cornerback prospect they nabbed in the seventh round, etc., etc.
The Steelers addressed several positions of need in the draft, and they did so with great value in just about every round.
With the first-round tackle prospects flying off the board, and with the first-round cornerback prospects moving slower than expected, Khan orchestrated a trade with the Patriots in order to move up three spots in the first round to select Jones, the big, athletic left tackle out of Georgia. In doing so, Pittsburgh only had to part with its fourth-round pick. Not only that, but this move prevented the Jets, who were said to be in the market for a new left tackle to protect the blindside of their new starting quarterback–Aaron Rodgers–from taking Jones.
When the draft resumed on Friday night at the start of the second round, the Steelers, sitting with the 32nd pick, had the option of either trading down to accumulate more draft choices or simply taking who they thought was the best player available.
Pittsburgh went with Option B, and that player's name was Joey Porter Jr., the stud cornerback prospect from Penn State and the son of the great Joey Porter Sr., a Steelers Super Bowl hero from yesteryear.
So, the Steelers went into the first round in search of a top-caliber left tackle AND cornerback, and they had both by the time they were done with their first pick of the second round.
You couldn't have asked for anything better.
The Steelers actually re-acquired a fourth-round pick by moving down 13 spots in the third round. Not only that, but they still managed to land Darnell Washington, a hulking tight end from Georgia, with the 93rd pick of the draft.
So, to recap, the Steelers went into the draft with four of the first 80 picks (four in 93, after the trade to re-acquire a fourth-round selection) and managed to walk away with four players–Broderick Jones, Joey Porter Jr., Keeanu Benton and Darnell Washington–who all had first-round buzz prior to or going into last weekend.
As the cool draft kids like to say, that's quite the haul.
The Steelers have been receiving rave reviews for their performance in the draft. They've been passing every post-draft review with flying colors–mostly with A's and A+'s.
It's a cause for celebration. It's a reason to be happy. It's a time for great excitement in Steeler Nation.
You simply cannot wait for the start of the rookie minicamp, regular minicamp and training camp. Get me to Latrobe, Pa. so I can see these new toys in action!
When is the first preseason game?
This is awesome!
It's also just a group of guys who have yet to set foot on a professional football field of any kind.
Let's remember that.
I remember how over the moon everyone was about the Steelers' 2008 draft class, a class that included running back Rashard Mendenhall, receiver Limas Sweed, quarterback Dennis Dixon and safety Ryan Mundy. Like Porter, Sweed was said to be a first-round talent who fell into the second.
Pittsburgh got a steal, a bargain, with Sweed. Turned out, all the Steelers got was a receiver who couldn't catch (a pretty important job for a receiver).
Dixon did play an important role by starting a few big games at quarterback when Ben Roethlisberger was either injured or suspended, but he certainly never lived up to the prospect he was said to be before injuring his knee in college.
Mendenhall, the stud running back from Illinois, did seem to be destined for a great Steelers career after suffering a season-ending shoulder injury in his rookie season. Mendenhall had back-to-back 1,000-yard seasons–including 1,273 yards and 13 touchdowns in 2010. Mendenhall may have been Pittsburgh's most valuable player en route to an appearance in Super Bowl XLV following the 2010 campaign. Unfortunately, there was Mendenhall's fumble in the fourth quarter of that Super Bowl that proved to be vital to a Packers victory.
The fumble, coupled with Mendenhall's controversial remarks about Osama bin Laden many months later, made him a very unpopular figure among Steelers fans.
Mendenhall was on his way to another 1,000-yard season in 2011 before suffering a torn ACL in the final week. He was never the same again.
Long story, short, Mendenhall, and every other pick from the 2008 class, was out of Pittsburgh by 2013.
I don't know why I chose 2008, other than that was the last time I remembered this kind of universal excitement for a Steelers draft class.
The bottom line is this: Omar Khan deserves all the credit in the world for orchestrating such a great draft, but this is just the first step. (Btw, isn't it amazing how head coach Mike Tomlin is getting almost zero credit for the draft haul? I guess he only has too much power when the Steelers have a bad draft.)
Fans shouldn't get too excited about this class. They mustn't talk in absolutes, as if most of these picks will go on to have great careers. The stats tell us that Pittsburgh will be lucky to land one superstar and maybe two more dependable starters from the class. Don't be surprised if someone like Washington is a dud, while offensive lineman Spencer Anderson, the second and forgotten seventh-round pick from Maryland, turns out to be a stud–or at least a versatile role player capable of lining up anywhere up front.
I hate to throw a wet blanket on the excitement of the Steelers 2023 draft class, but it seems to be a bit too on the nose to work out as well as everyone is expecting.
Not to say it won't be a good-to-great class (I certainly wouldn't mind the latter), but Khan has a ways to go before he's the general manager legend everyone has already made him out to be.
Enjoy the honeymoon, Omar.
Criticism's coming, Yo!